 Publish Google Docs to WordPress in 1-Click
Save 100s of hours automating your content publishing workflow.
Clean formatting, images, SEO, and more.
STEP 1
Write in Google Docs
Skip the step of opening WordPress for writing and publishing. Create your content within Google Docs, including essential details like the title, slug, tags, categories, featured image, Yoast SEO or Newspack information, all directly within your Google Docs document.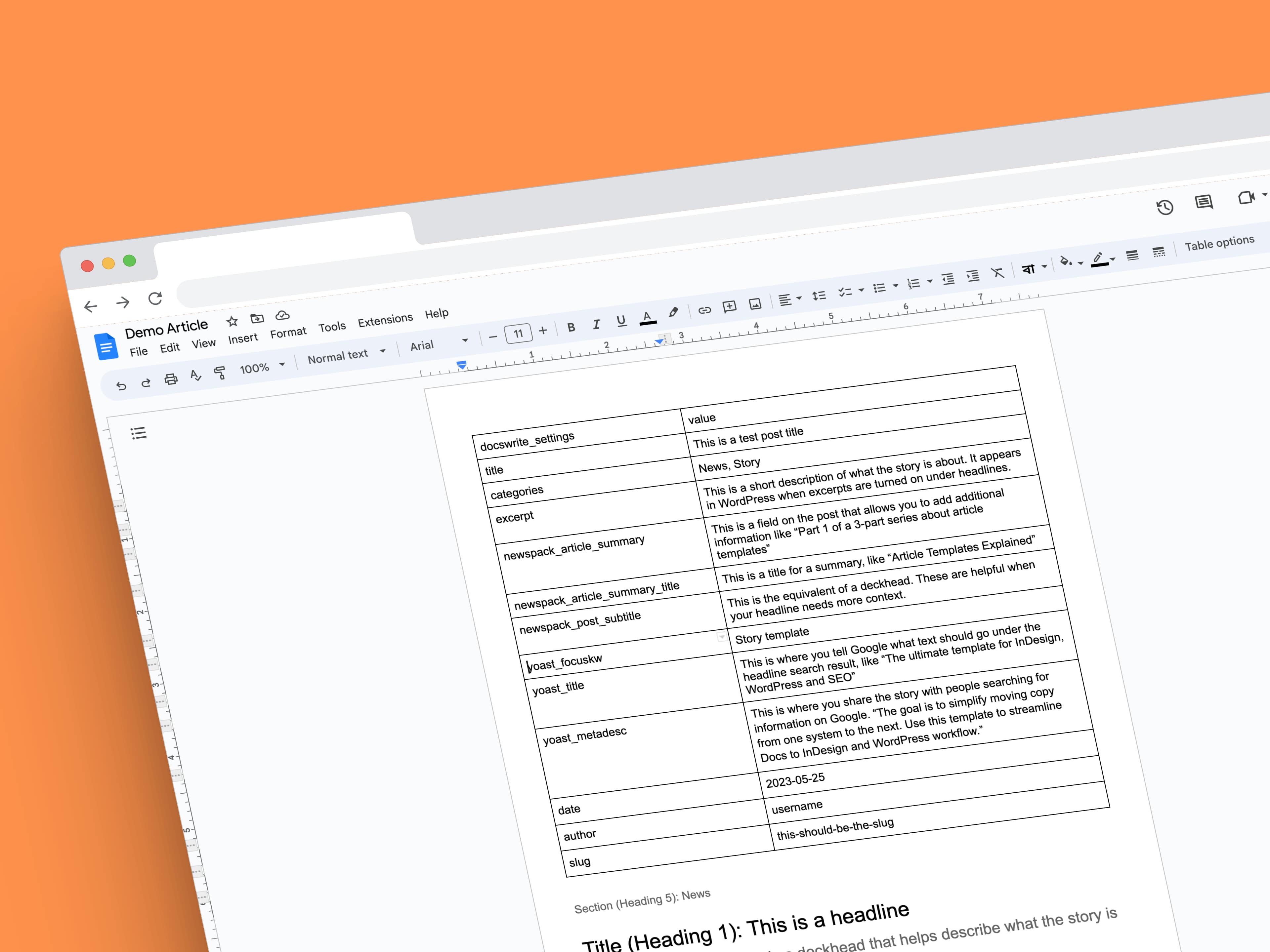 STEP 2
Instant 1-Click Publishing
Allow Docswrite to handle the rest. Docswrite will promptly publish your content to WordPress, and you can also invite your team members to publish directly from Docswrite.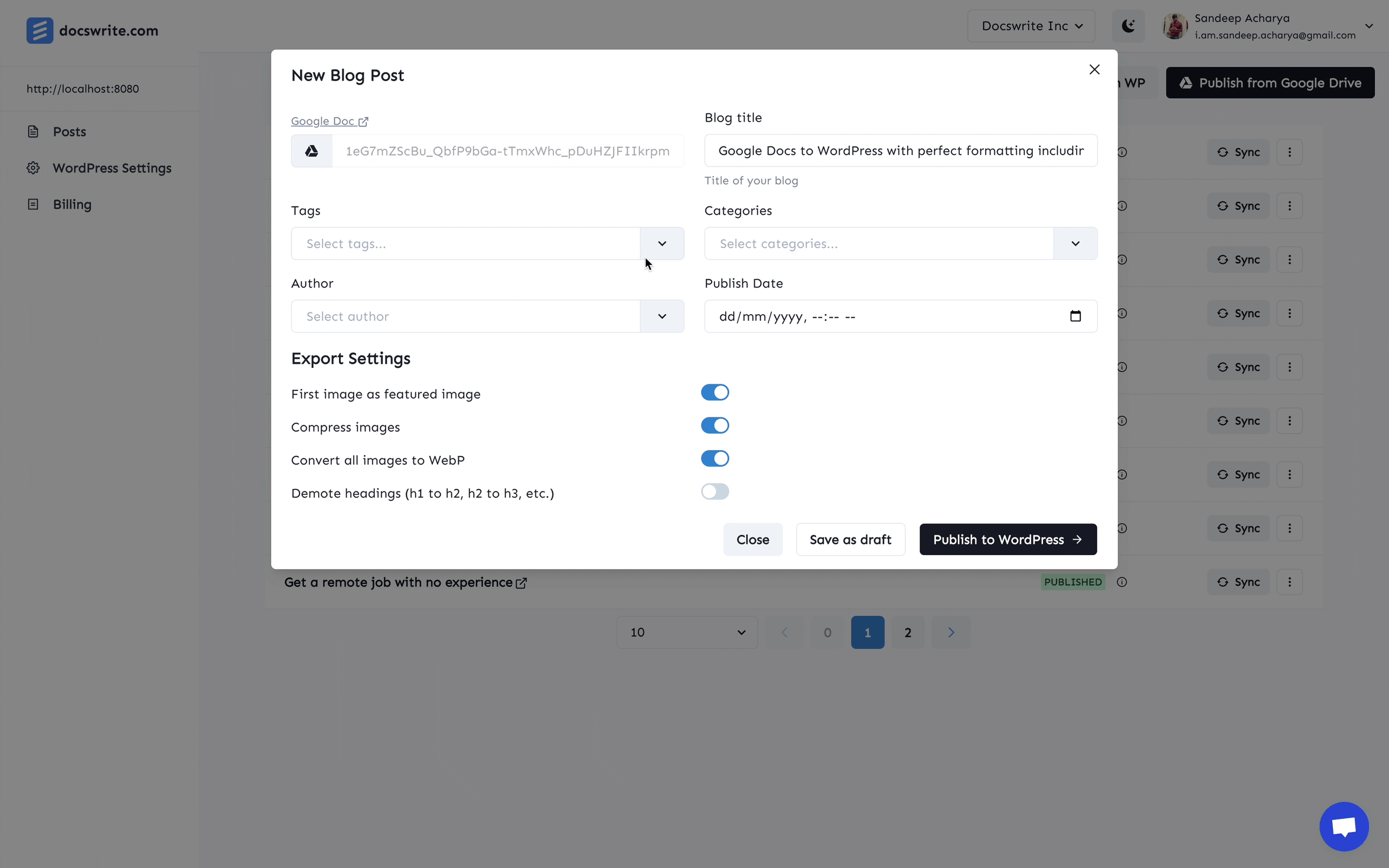 STEP 3 - Go Beyond
Streamline Publishing Automation
Docswrite seamlessly integrates into your current workflow. Link your Trello board, Monday content calendar, Airtable, Jira, Linear, and more to Docswrite.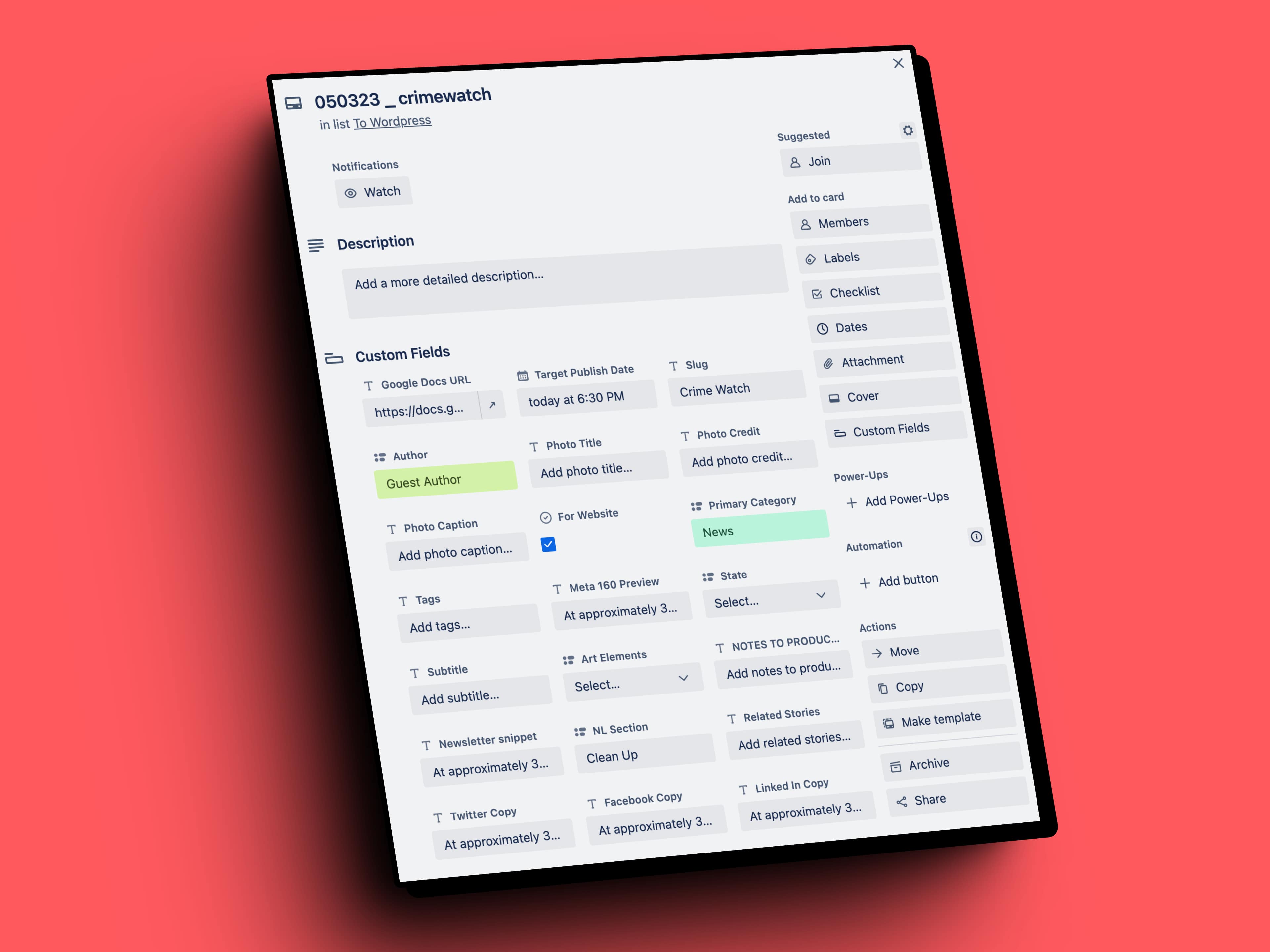 Enhance Your Content Publishing Efficiency
Discover a better way to publish and schedule content effortlessly
Tired of manual copy-pasting from Google Docs to WordPress? Docswrite offers a robust publishing and scheduling engine for one-click content deployment.
SEO-Optimized Content

Our exports are SEO-ready, and you can apply custom styles, along with shortcode support.

No Plugin Dependency

Docswrite connects directly to your WordPress site, eliminating the need for plugins.

Blazing Fast Performance

Built for speed, Docswrite effortlessly handles large documents with lightning-fast performance.
Publish from Anywhere
Seamlessly Integrate
Docswrite seamlessly integrates into your existing workflow, enabling content publication from Trello, Monday, Airtable, Jira, Linear, and more.
Card-Based Publishing

No need to open WordPress for editing and publishing. Simply move a card within your project management tool to publish.

Effortless Post Settings

Configure post details such as title, slug, tags, categories, featured image, and more directly within a card. No WordPress editing required.
Effortless Programmatic Publishing
Unlock the Power of PSEO (Programmatic SEO)
With Docswrite, generate hundreds of SEO-optimized posts within minutes.
Google Docs Templates

Craft your template in Google Docs, with each column in the Google Sheet linked to a placeholder in the template.

Data-Driven Publishing

Data from your Google Sheet populates the template, replacing placeholders. Each data row becomes a distinct post, and you can even create listicles using our grouping feature. Docswrite integrates with
your favorite tools.
Export your Google Docs from the tools you already use.
Supercharge Content Publishing
SEO-Optimized Content with Every Post. The Ultimate Efficiency in Website Publishing. Say Goodbye to Manual Work.
Effortless Publishing in Seconds
Publish content swiftly from our dashboard or your preferred tools like Trello, Airtable, Monday, and more.
Efficient Content Creation in Google Docs
Utilize the streamlined writing platform of Google Docs for content creation and seamless collaboration with your team. Google Docs serves as your content's primary source.
Streamlined Automation
Our in-house Google Docs to HTML parser handles the heavy lifting for you. It retains table of contents, optimizes images to WEBP, implements nofollow links, opens links in new tabs, formats Twitter, YouTube, and GitHub URLs as embeds, and supports custom class names and shortcodes.
Centralized Blog Management
Write with ease and eliminate waiting for your team to publish. Control multiple WordPress blogs from a single location.
Seamless Project Management Integration
Effortlessly publish content directly from your preferred project management tool. For instance, move a Trello card from 'In Progress' to 'Done,' and your content goes live on your blog.
Save 30 Minutes per Post
Boost content production by automating your workflow. Docswrite empowers your team to publish content independently, saving you valuable time.
Pricing
Costs fraction of what you pay for a Virtual Assistant.
Monthly
Annual (2 months free) The

Quickest and Simplest

Method to Publish Content on WordPress.
Docswrite is the easiest and fastest way to publish content.
You never have to worry about formatting, images, and SEO.
Docswrite would take care of everything.
Frequently Asked Questions
We have compiled a list of the most frequently asked questions. If you have any other questions, please contact us.
Docswrite offers two methods for publishing. You can publish directly from your existing tool, such as Trello, using our Zapier App. Alternatively, you can publish from the Docswrite dashboard. It's your choice how you want to integrate it into your systems. All the fields available in the Zapier app can also be added as a table at the top of your Google Docs document.
You can configure SEO details within your Google Doc. You also have the option to set them using the Zapier App or our API. We provide support for Yoast and Rankmath SEO plugins, as well as Newspack SEO settings.
Docswrite is a productivity tool designed to help you and your team publish articles from Google Docs to WordPress. You can also publish articles from Trello, Monday, Airtable, and Google Sheets. You can publish articles from any source using our Zapier App.
No, we offer a 14 days free trial. No credit card required. You can explore all the features and decide if you want to continue with us. You can contact us anytime if you have any questions.
Yes, you can set the featured image. You can choose to set the first image found in the Google Docs as the featured image. Feature image can also be set via an image URL.
You can set tags, categories, slug, title, etc., and SEO (Yoast and Rankmath) in the Google Doc. You can also set them using the Zapier App or our API.
No, you do not need any additional plugins unless you want to set the Yoast and Rankmath SEO details.
Yes, you can set multiple Newspack settings for an article in the Google Doc or via the Zapier app.
You can publish 75 articles in the startup plan. That is enough for most of the blogs. If you need more, you can upgrade to the higher plans. All the published articles will be perfectly formatted and SEO optimized.
You can publish 1000 programmatic posts in the startup plan. Each row of data from Google Sheet will be published as a separate post.
Nothing will happen to your articles. They will remain published. Docswrite works as your virtual assistant.
Any images found in your Google Docs will be uploaded to your WordPress site. You can find them in the Media Library. You have the option to automatically set the first image found in the Google Docs as the featured image.
Yes, you can use Docswrite with your existing WordPress site. You can also use it with your client's WordPress site. You can contact us if you have any questions.
Yes, you can compress images using Docswrite. When you publish an article, you can choose to compress the images.
I want to know more about Docswrite.